Legend of the Elephant Hair Bracelet
The Elephant Hair Bracelet is perhaps one of the most recognized pieces of symbolic jewelry of its kind.
Tribal Legend over 2000 years old states that the soul of the elephant passes through the tail when he dies. The sacred strands of hair from his tail are then woven and knotted in a symbolic manner to form a bracelet which evokes the power to protect its wearer with the elephants strength, wisdom, and spirit.
Worn on the left wrist brings luck in the hunt or quest. Worn on the right wrist brings success in exploits of love.
The four knots represent earth, sun, moon, and stars.
Opening and closing the bracelet each time its worn passes the knots over the strands which symbolize the changing seasons creating harmony and balance between earth and it's people.
With the decline in the population of the African Elephant, we have chosen not to add to the shortage by using elephant hair, but rather offer a more attractive and longer lasting piece of jewelry, still representative of the old Africa.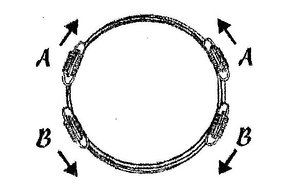 To OPEN Bracelet
First slide "A" knots evenly together.
Next slide "B" knots evenly together.
To CLOSE Bracelet
First slide "A" knots evenly apart.
Next slide"B" knots evenly apart.
Your bracelet will conform evenly to your wrist with gentle bending and wear. Clean with a silver polishing cloth.